ECRS receives and retains all transactions from the source system or electronic bills. This includes valid transactions where all data is correct and invalid transactions in which one or more data elements do not meet the validation criteria established by the firm. Only valid transactions are posted into the firm's billing system. ECRS includes an on-line utility to easily review and correct detailed cost transactions prior to processing into the billing system.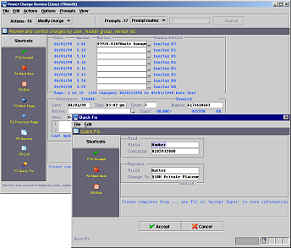 Sample screen showing Power Charge Review
Reviewing and correcting transactions already in the system is much easier and faster than methods used by other systems. Typically other systems import valid transactions only and generate an exception list of the invalid transactions. The exception list is distributed to users who correct the invalid data elements by annotating the report. When the annotated reports are completed they must be manually input into the billing system.
Transactions received into ECRS are identified with information about the device (i.e. telephone, photocopier, etc.) and the user who created it. The Power Charge Review program permits users to correct the transactions they are responsible for. Invalid transactions (i.e. transactions assigned to an invalid matter code) can be corrected quickly using a simple "find-and-replace" feature.
User Security Access - Access rights (view or edit) may be established for each user. This allows the firm to control who may have access to each user's transactions. For example, a paralegal may be able to correct only his or her transactions, while a secretary may be allowed to correct transactions for more than one attorney.
Users are typically granted permission to correct invalid matter codes only. Users with sufficient access rights may change any element of the transaction such as date, time, amount, etc. This feature also allows authorized users to reassign charges to other users.