Copy centers equipped with CostWare cost collection devices can be configured to make the best use of resources.

One cost collection device can be used to control any number of copiers.

In addition, one copier may be controlled from more than one cost collection device.

No two copy centers are alike, therefore the typical workload and staffing of the copy center will generally dictate the best configuration for a center.

The flexibility of the CostWare solution means that cost collection devices may be deployed in a manner that best suits a particular environment.

With CostWare, a copy center no longer needs to work around the limitations of a legacy cost collection device.
Digital Copy Center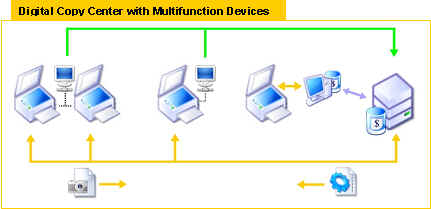 Copy Center Configuration

Left : Two devices controlled by one graphical cost collection terminal

Center: Individual device controlled by one graphical cost collection terminal

Right: One device controlled by a cost collection device (CCD); data is periodically synchronized between the CostWare server and the CCD

Far Right: CostWare server used to store images and remotely control networked multifunction devices associated with terminals

Analog Copy Center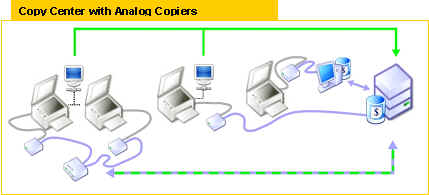 Copy Center Configuration
Left: Two devices controlled by one graphical cost collection terminal
Center: Individual device controlled by one graphical cost collection terminal
Right: One device controlled by a cost collection device (CCD); data is periodically synchronized between the CostWare server and the CCD
Far Right:
CostWare server uses serial server to control analog translators over network; also controls directly connected translator (center)