CostWare

Overview

Features

Digital Office

Digital Workgroup

Copy Center

Fax Center

Monitoring

Analog Legacy

CopyWare

PrintWare

PrintWare Plus

ScanWare

FaxWare

FaxWare Server

PhoneWare

PostWare
---
Expense and Cost Recovery System

Overview

Automated Data Exchange

Business Rules

Charge Review

Reporting

Vendor Interfaces
For more information, contact us at:
T: 602-615-7883
E: sales@costwareinc.com
CopyWare
---
CostWare's CopyWare provides the basic photocopy chargeback capabilities generally associated with cost recovery devices. The tracking of photocopies made with analog and digital machines generally represents the bulk of a firm's internal cost recovery. With that in mind, CopyWare is built on a solid foundation to ensure reliability and accuracy.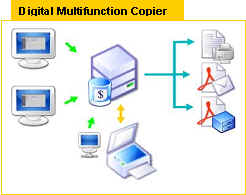 Use Scenario
Job form is filled out at desktop or graphical cost collection terminal

Multifunction device is unlocked and pages are copied or scanned

Scanned images, if any, are stored on server and faxed or emailed, if necessary

Transaction is saved in database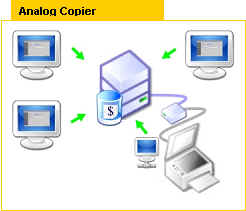 Use Scenario
Job form is filled out at desktop or graphical cost collection terminal

Analog device is unlocked and pages are copied

Transaction is saved in database