CostWare

Overview

Features

Digital Office

Digital Workgroup

Copy Center

Fax Center

Monitoring

Analog Legacy

CopyWare

PrintWare

PrintWare Plus

ScanWare

FaxWare

FaxWare Server

PhoneWare

PostWare
Expense and Cost Recovery System

Overview

Automated Data Exchange

Business Rules

Charge Review

Reporting

Vendor Interfaces
For more information, contact us at:
T: 602-615-7883
E: sales@costwareinc.com
Digital Workgroup
---
Workgroups can take advantage of CostWare's unique ability to deliver all of the functionality of the cost collection device right to a user's desktop.

Users can easily copy, print, scan, store and send documents using their desktop and a nearby multifunction device.

With a workgroup solution, there is no need to wait in line or walk to a busy remote multifunction device.

Busy professionals looking to digitally increase their productivity appreciate the convenience of a digital workgroup solution.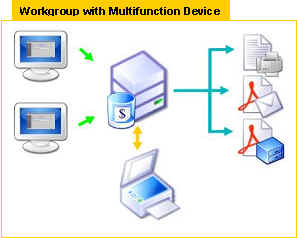 Use Scenario
User enters ID, password (if enabled) and charge information using CostWare desktop software

CostWare server unlocks multifunction device

Pages are copied or scanned

Scanned images, if any, are stored on server and faxed or emailed, if necessary

Transaction is saved in database