All CostWare features are designed with the end-user in mind. Each feature is intended to be as simple to use as possible. The following features are standard for both digital and analog devices.
Full-text search: When searching for a client or matter name, the system automatically takes into account common misspellings by using a phonetic (sound-alike) search. Any word or code appearing in the client or matter name may be readily searched.
Job Queue: Jobs may be submitted to a job queue for further processing at a later time. Thus, jobs may be electronically submitted to the copy center from the userís desktop. Copy center personnel can pick up their instructions directly from the job queue. Charge assignment takes place at the time the job is initially submitted, ensuring the appropriate party is charged for the job. Userís finalizing their own jobs can breeze through the process knowing all relevant information has already been accurately recorded.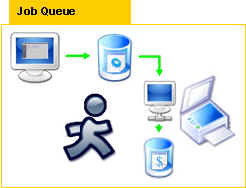 Use Scenario
Job form is filled out and saved from desktop
Pages are taken to analog or multifunction device

Graphical cost collection terminal is used to recall and start job from job queue

Pages are copied, scanned, etc.

Transaction is saved in database
Job Notes: Job notes are used to record information for internal use. Notes may include instructions for copy center personnel or personal reminders for the user.

Job Form Completion: By maintaining a detailed history of a userís previous jobs, CostWare cost collection forms may be easily filled out using a previous job as a profile to fill out the fields of the current form.

Sensible, firm-defined defaults may be assigned to input fields, reducing data entry.

Billing Description: Some clients may require detailed descriptions of large jobs. Billing descriptions intended to appear on a clientís invoice may be recorded for each job.

Personal Web Cabinet: Each user is assigned a secure, personal web cabinet. Each job performed by the user is stored in a separate folder in the web cabinet. Scanned images are stored in the job folder for future reference. Images downloaded from the job folder can be stored locally or imported into OCR or document editing applications.

Redo: Jobs are easily rerun using the ďRedoĒ feature. Jobs that involve scanning may be redone without the need to rescan any pages since all scanned images are stored in the userís personal web cabinet. Scanned pages can be easily resent as a fax or email.

Expandable: Where space is at a premium, each CCD is capable of handling multiple devices. Fax machines, copiers and multifunction devices can be operated at one station .