CostWare

Overview

Features

Digital Office

Digital Workgroup

Copy Center

Fax Center

Monitoring

Analog Legacy

CopyWare

PrintWare

PrintWare Plus

ScanWare

FaxWare

FaxWare Server

PhoneWare

PostWare
Expense and Cost Recovery System

Overview

Automated Data Exchange

Business Rules

Charge Review

Reporting

Vendor Interfaces
For more information, contact us at:
T: 818-593-2800
F: 818-593-2888
E: sales@costwareinc.com
PhoneWare
---
Despite technological advances in the area of electronic communication, the telephone continues to be the primary means of communicating with clients.

When used in conjunction with a modern telephone switch, PhoneWare can be used to track in and outbound telephone calls.

PhoneWare makes it easy to price outbound calls using a flat or simple tiered rate.

An additional pricing module may be purchased to price calls using rate tables based on calling plans from major telephone companies.

With the advent of flat-rate calling plans, many firms no longer require the extra expense of maintaining the advanced pricing module.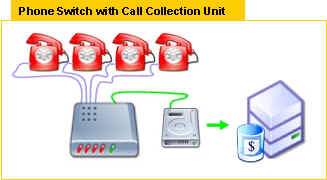 Use Scenario
User enters matter (project) code prior to placing call
Phone switch exports phone call log to PhoneWare call collection unit

Transactions are priced, imported and saved in database